Introduction
The molecular diagnostics market is experiencing rapid growth largely due to advances in genetics / genomics / proteomics technologies over the last decade that have enabled significant discoveries to be made in predictive biology. Commercial companies are now emerging with new tests in combination with proprietary algorithms to make useful predictions for patients.
In order to commercialize these tests, a Molecular Diagnostics company will typically establish a lab for sample processing and assessment. In order for US based labs to conform with regulations, the entire process from sample receipt to processing needs to be compliant with CLIA regulations.
Molecular Diagnostics Company Requirements
Molecular Diagnostics labs have a diverse set of information technology needs that span well beyond what is traditionally thought of as lab management. All or some of the following are often needed:
An ordering system for physicians to enter test requests, or a method to interface with existing physician systems to receive orders
Sample Collection Kit Management
Sample Management
Lab Workflow Tracking – i.e. Electronic Lab Notebook
Instrument Integrations for Lab Automation
Assay Data Management and Custom Algorithm Implementation
Automated Diagnostic Report Creation with E-signature
Medical Billing
Sales Force Automation Integration
This extent of this list is daunting for a new Molecular Diagnostics company to consider as a thorough implementation of these features could require four or more software solutions and years of work. New labs also need to get CLIA certification and may also need to operate under GLP and/or be a validated lab per FDA Part 11 specifications.
Exemplar Clinical LIMS - From Test Request to Results
Sapio Sciences has extensive expertise in implementing fully electronic (i.e. paperless), compliant systems at leading Molecular Diagnostics companies. Exemplar Clinical LIMS can manage all the items listed above within a single solution, and it does this in contracted timeframes without sacrificing features or functions. This means your lab can be up and running and processing orders quickly in a compliant setting.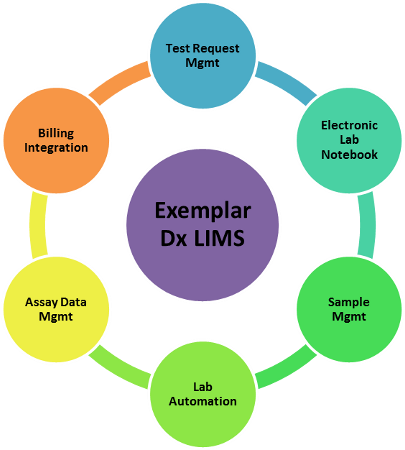 Sapio has achieved implementation timeframes of as little as 2 months from start to finish with complete tracking from request to results. Sapio is able to do this because its Exemplar Laboratory Management System's foundational technology platform enables detailed, customized processes to be implemented rapidly, so not only is the implementation done quickly, it adheres to your specific requirements. Sapio is also able to make the process 100% paperless from test request through sample processing and results generation, which streamlines the workflow from beginning to end and ensures compliance with upcoming changes in CLIA regulations that may mandate paperless processes.
Sapio Sciences - Your Experienced Partner in Discovery for Clinical Sample Processing
Sapio Sciences has industry best experience in clinical implementations via our marquee list of clients who have commercialized 'omics-based tests. Sapio understands CLIA/CAP/HIPAA requirements and our Exemplar technology meets all the key regulatory requirements. We have both strong partnerships and integration experience with companies in the clinical space:
Billing Providers – Sapio has integrated with top billing providers to automate payment processing at the proper time in the processing pipeline
Sales Force Automation – Exemplar supports your sales organization with its integration with Veloxity CRM which tracks complete sales engagement with providers including marketing, quota, forecast tracking, and more.
Clinical Order Management – Exemplar supports your order processing with its integration with Veloxity CRM which tracks from order receipt to sample accessioning, deficiency resolution, reflex testing, patient reporting, and much more. Exemplar Order Management is fully integrated with our Veloxity CRM add on so the sales team can easily see orders related to their accounts and how they are tracking against quotas.
The combination of Exemplar LIMS®\ELN compliance and capabilities, our broad experience in the clinical space and our clinical solution partner relationships make Sapio the ideal solution for your Molecular Diagnostics company.
Schedule a Demonstration of Exemplar Clinical LIMS
We are happy to setup a time to demonstrate Exemplar.
We respect your privacy and do not tolerate spam and will never sell, rent, lease or give away your information (name, address, email, etc.) to any third party. Nor will we send you unsolicited email.
Baylor College of Medicine Case Study

Webinar: ELN, LIMS or SDMS? Disappearing Boundaries in Digital Labs

How To Buy a LIMS - The 5 Question RFP

Exemplar LIMS for NGS Labs
Thank you for your interest in our resources!
To download this information, you'll need to setup a FREE account. Please use the provided form to to register.
Already have an account? Login