Introduction
Bioprocessing is one of humanity's oldest industrial and scientific processes, dating back as far as 10,000 BCE. At its core, bioprocessing uses living cells as miniature factories to create valuable products through the process of fermentation. Throughout history, bioprocessing has most commonly utilized yeast and bacteria to create food products including beer, wine, cheese, yogurt, kimchi, and soy sauce. Thanks to advancements in science and technology in recent decades, bioprocessing has expanded to many different industries. From apparel to energy, and pharma to farm, companies are now making a wide range of products including antibiotics, animal alternatives (dairy, leather, and meat), cancer therapies, cosmetics, enzymes, flavors, fragrances, health products, and spider-silk.
Stages of Bioprocessing
Bioprocessing consists of two main segments: upstream and downstream operations. Upstream bioprocessing begins with strain engineering or cell -line development, depending on the application, in which the organism of interest is selected and optimized using genetic engineering techniques. Upstream bioprocessing concludes with fermentation, where organisms consume nutrients to make the product of interest. In R&D environments, organisms may be tested and analyzed for desirable traits in high throughput screening and analytical chemistry departments before being promoted to the fermentation stage. Optimization of growth conditions, materials and reagents, and process parameters are also essential to R&D operations during upstream bioprocessing.
Downstream bioprocessing starts with the purification of the product from the fermentation broth and typically includes centrifugation and various chromatography techniques. In the formulation stage, the purified product is stabilized and prepared to meet pertinent, industry-specific quality and safety standards. In commercial operations, the final product is sent for filling and packaging before being shipped to suppliers.

While Bioprocessing is a mature practice, fundamental challenges remain. In today's digital age, many teams are still stuck with paper-based records, disparate sources of data and documentation, with little transparency into the overall process, and lack the digital infrastructure required to collaborate and operate efficiently. In some cases, the opposite is true. Organizations of scale, consisting of highly specialized teams, may be overwhelmed by the complex digital infrastructures manifested over time. Too many systems in place can result in the same core challenges. Sapio Sciences solves the challenges of Bioprocessing with its comprehensive platform designed for organizations of any size and scale of complexity.
Sapio Bioprocessing Solution
Sapio Sciences serves as the digital backbone for organizations performing Bioprocessing. Sapio's seamless platform combines best-in-class Electronic Lab Notebook, LIMS system, and SDMS capabilities while taking a process-driven approach to Bioprocessing operations. Sapio's low-code no-code platform includes out-of-the-box workflows, extensive instrument, material, and sample management, and native data analysis and charting capabilities. From R&D to manufacturing, Sapio Sciences provides the flexibility and scalability to accelerate products to market.
Learn more about Sapio's Bioprocessing solution
Take a Process-Driven Approach
Sapio provides predefined Bioprocess workflow templates for each step in the pipeline to get you up and running quickly, but as these are built on Sapio's Informatics no-code platform you have the agility to adapt them to your own needs rapidly. Workflows can also be defined to run in a defined sequence using Sapio's graphical Process Manager to create a controlled progression through the bioprocessing pipeline.
Improve Collaboration Across Teams
Streamline operations by creating and managing requests throughout the process. Improve transparency into the overall pipeline with real-time data updates, work queue dashboards, and visual sample tracking.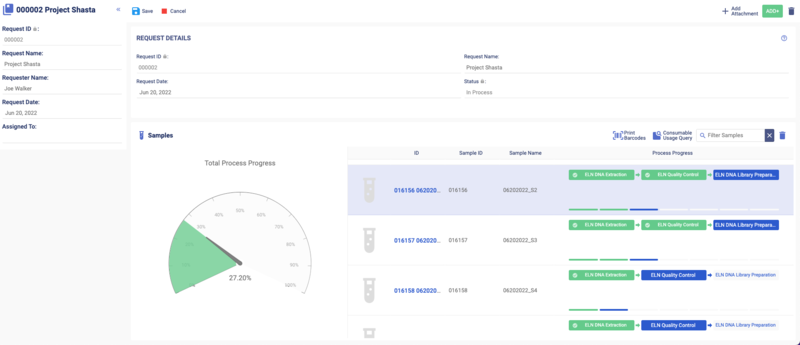 Bioprocessing Status Dashboard
Find Hits Faster
Develop and screen your strains faster and more efficiently on the Sapio platform with its integrated analytics and advanced, configurable data visualizations. The 3D plate designer makes it easy to set up layered plates for transformations and screening operations. Furthermore, you can view a strain's lineage, genotypic, and phenotypic information using the graphical strain hierarchy. These collective features enable you to find and advance hits to fermentation faster and more efficiently.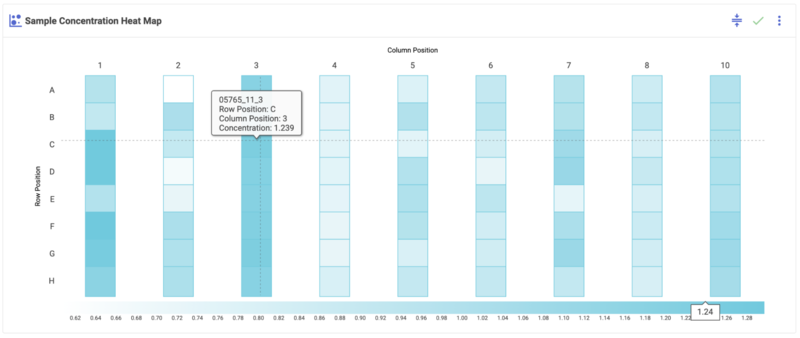 Sample Concentration Heatmap Visualization
Scale-Up Efficiently
Set-up and manage your upstream and downstream operations more efficiently using Sapio's Bioprocessing pre-built solution:
Capture process parameters and fermentation conditions from seed train through purification.
Integrate online, at-line, and offline data seamlessly with Sapio's Scientific Data Management System (SDMS).
Visualize and optimize process conditions easily using Sapio's integrated charting capabilities.
Perform advanced analytics to calculate titers, productivity, mass balances, and other essential KPIs directly within the platform.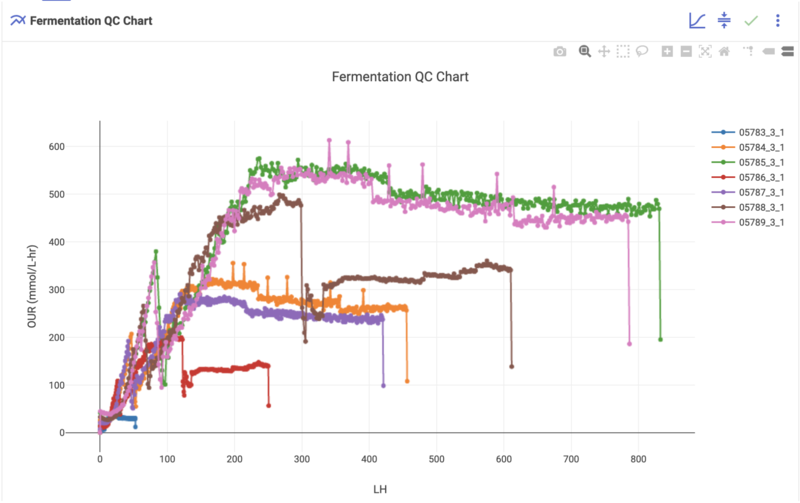 Integrated Charting View of Fermentation QC Data