What is a LIMS System?
LIMS, or Laboratory Information Management System, is a software application that helps laboratories to track and manage data. LIMS provides a central repository for all laboratory data and helps to automate laboratory processes, including sample tracking, data analysis, and report generation.
A LIMS enables you to model procedures, and then to enable requests to be made for the modeled processes that include the samples to be processed, their associated metadata and what processes (i.e., pipelines) they are to be assigned to. This allows you to manage the processing flow of samples from request all the way through well-defined workflow steps to ensure you are getting high quality, repeatable results and proper traceability.
Analysis of captured process data can also enable potential improvements in lab efficiency as bottlenecks are readily identifiable. A LIMS System helps standardize workflow processes by providing controls of the processing steps the samples are proceeding through. Automation can ideally be incorporated into the process and integrated with the LIMS software to automate collection of instrument data, while ensuring instruments are properly maintained and utilized.
Click here to learn more about our Web
Based Sapio Electronic Lab Notebook
What are the Benefits and Advantages of LIMS Systems?
A LIMS (or Laboratory Information Management System in its full form) helps in three main ways:
Accuracy of Results
A LIMS system helps labs produce accurate, repeatable results via rigorously defined steps with enforced protocols
Efficiency of Lab Operations
A LIMS system helps labs to automate and speed up laborious tasks via integration with automation robotics
Lab Processing Data Access
A LIMS system helps labs store and retrieve results quickly versus spreadsheets which do not enable searching across many years of lab processing data
LIMS software helps labs meet regulatory requirements such as GCP, FDA 21CFR Part 11, GLP, CLIA, and CAP by encapsulating what they do and how they do it, enabling efficient management of the lab.
What does a LIMS do?
The main purpose of a LIMS is to improve lab efficiency and accuracy by reducing manual operations. A laboratory information management system will perform a range of core functions. These normally include:
Tracking Bench Protocols work via Workflow Process Tracking
Accountability of work done via process and data audit tracking
Sample management
Materials Management
Data Access, Dashboards and Reporting
Naturally not all LIMS Software Systems perform all these functions and the ability of the systems to enable rapid implementation of protocols will vary greatly.
LIMS Features & Functions
Sample Management
A Lab Management System is commonly used for Sample Management to keep an accurate inventory of each sample, its processing and other related data such as storage location, etc. Detailed sample and related metadata can be recorded when the sample is created or first arrives in the lab, which can also vary depending on the type of sample and its processing pipeline. This normally includes the related project(s), sample identifiers/barcodes, storage information, related assay results data and which workflows or experiments it has passed through. It also includes information such as how it should be stored and any expiration dates. A laboratory information management system should be able to record and retain all this information to ensure easy traceability of all things related to a sample in its life cycle.
Materials Management
Lab processing relies heavily on tracking materials being used, typically reagents. A Lab Management System can enable detailed tracking of inventoried reagents, how much is on hand, lots numbers, expiration dates and reorder levels. The laboratory information management system will also record everywhere a particular materials lot was used (e.g. what processing workflows) and what samples were combined with the reagents.
Reporting
LIMS are an essential tool to not only storing sample, material and processing data, but also for enabling searching of that data and graphical presentations of that information in useful dashboards. Additionally, ad-hoc searches and charts should also be able to be quickly run, allowing lab management and lab scientists to make real-time decisions via real time insights into the lab operations.
Workflow Management
A LIMS can be used to define step by step procedural laboratory workflows and can increase throughput of the lab by performing automation such as:
Automatic plate setup of samples including any needed replicates and QC's and Standards
Automatically passing instrument control instructions to robotics and automatically reading results from lab processing into structured records associated with the proper samples
Automatically assessing lab results data and queueing samples for reprocessing if necessary
Who uses LIMS software?
LIMS are used by lab managers, lab technicians, bioinformaticians and lab support staff. Every lab can benefit from a laboratory information management system to ensure repeatable, high quality results and easy data searching and reporting.
Why Is LIMS Important For Modern Laboratories?
A modern lab needs to have proper tracking of processing details as well as materials, samples, instruments and more. Lab processing data, including assay data, are some of the most prized and valuable assets of a pharma, biotechnology, research or clinical laboratory. It is critical to ensure that these are not only collected properly and that the data is accurate but that the data is easily accessible, visualizable and analyzable — all these constitute a modern informatics platform to enable the digital transformation of your life sciences organization.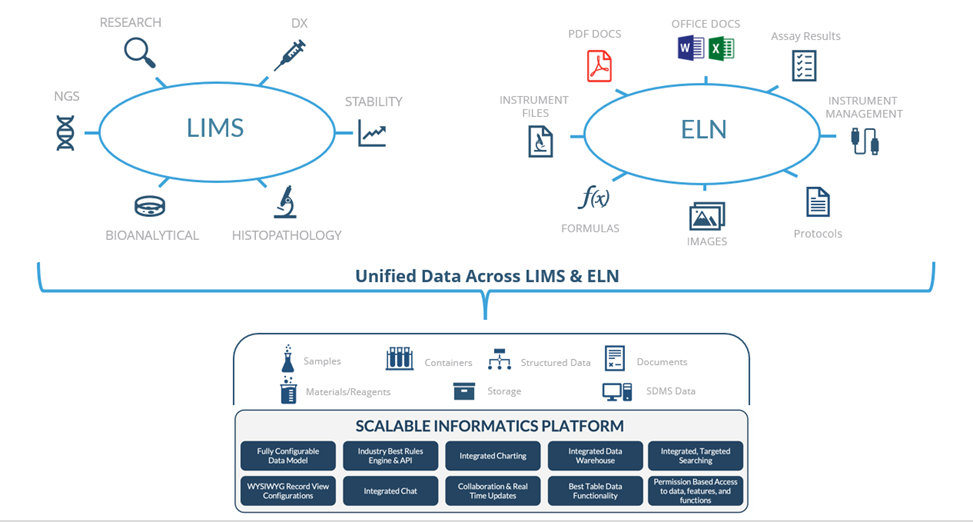 Click here to learn more about our Web
Based Sapio Electronic Lab Notebook
What Are The Best LIMS Systems?
LIMS software can be developed in-house or bought from the many commercial vendors that provide solutions. Due to the complexity and ever evolving nature of the lab environment, buying a pre-packaged LIMS solution enable labs to concentrate on their support of their scientific work instead of the expensive and time consuming task of developing one off solutions that are hard to develop and maintain.
While there are many laboratory information management systems on the market, it's important to find a LIMS that has the following characteristics:
Model Processes
Able to model processes and process steps via low-code, no-code configurations for your specific labs needs and then to be rapidly adaptable to the evolving needs of the labAble to model processes and process steps via low-code, no-code configurations for your specific labs needs and then to be rapidly adaptable to the evolving needs of the lab
Detailed Management
Provide detailed management of sample, materials, assay data and instruments
Prebuilt Vertical Applications
Have prebuilt vertical applications for things like Bioanalytical LIMS, Stability LIMS, NGS LIMS, Histopathology LIMS and more
Modern Interfaces
Have easy to use and modern interfaces providing role-based access control to all data, product functions and processes
Low-Code
Be built on a modern low-code, no-code platform
Integrated Electronic Lab Notebook
Have an integrated best in class Electronic Lab Notebook (LIMS ELN) to enable a complete and comprehensive digital transformation of your R&D organizations
The best LIMS solutions adapt to the way you work, help you manage the lab to efficiently provide your customers with exactly what they want (high quality traceable results), and create an automated repeatable bulletproof process.
Clinical LIMS
In regulated settings a clinical lims software solution will not only track process, but also be compliant with necessary regulations that control system access, log all changes to data, and more. A proper clinical LIMS solution will also:
Be Web-Based LIMS software that runs within web browsers and offer both cloud-hosted and on-premises deployment options
Enable quick modeling of complex lab processes so you can be up and running quickly to support your critical business operations
Provide end to end workflow support from physician ordering through accessioning and order transcription to lab processing and patient report delivery
Support very high data volumes including assay data
Provide operational insights via meaningful dashboards
FAQs
What products does Sapio Sciences's Informatics Platform offer?
Sapio Sciences is currently the only LIMS provider that offers integrated LIMS and ELN software. Its two flagship products include:
Sapio Seamless ELN
Sapio Seamless LIMS Software for various applications:

Sapio Research LIMS
Sapio NGS LIMS
Sapio Bioanalytical LIMS
Sapio Clinical LIMS
Sapio Histopathology LIMS
Sapio Stability Lims
How much does Sapio LIMS cost?
Check out our pricing page to learn more about Sapio Informatics Platform pricing options.
What features are included in Sapio's Informatics Platform?
Sapio Sciences's current editions can meet any clinical or R&D lab's needs:
Bronze Edition: Essential for academic settings and small biotech startups.
Silver Edition: Perfect for biotech startups to set up their digital lab foundation.
Gold Edition: Ideal for companies that are growing fast and want to expand their data-capture capabilities.
Platinum Edition: Full use of the Sapio Informatics Platform to address all your organizations' LIMS and ELN needs.
Bronze Edition
Document content searching
Hosted cloud
Free-form note taking
Embedded MS Office is compatible with Sapio Sheets and Docs
Paper on glass ELN
Experiment Templates
LIMS, prebuilt solutions, and clinical features not available with Bronze Edition
Silver Edition
Everything in Bronze plus
No code rules engine
Material registration, tracking, and management
Molecule and reaction drawer and search
3D plate designer
Easy workflow reusable template creation
Sample registration
Prebuilt solutions, and clinical features not available with Silver Edition
Gold Edition
Everything in Silver plus
Fully configurable data model w/no code or SQL
Scientific data visualization chart builder
Instrument results to structured data
Instrument tracking
Research, prebuilt solution add-ons
Complete audit logging and traceability
Patient report builder and delivery
And more
Platinum Edition
Everything in Gold plus
Optional private cloud /on-premise
Scientific Data Mgmt System (SDMS) with pre-built integrations
Prebuilt solutions for clinical
Detailed turnaround tracking (TAT) and analytics.
Request Management and Request Portal
What are the benefits of low-code, no-code LIMS?
Every laboratory has its own set of specific needs and processes. Utilizing a no-code, low-code platform enables users to easily adapt their processes to their specific steps. Other benefits of no-code, low-code include improved software agility, decreased costs, and improved productivity.
What if my team and I don't have an IT department?
Sapio Sciences takes care of all of your IT needs. Sapio LIMS and ELN are fully cloud-based, so all you need to do is just sign up and go. Our products are designed with out-of-the-box features that make it easy to get started even if you're using electronic notebooks for the first time.
Why should I trust Sapio?
Sapio Sciences is a trusted provider of lab management software, electronic lab notebooks, and knowledge management solutions used by most of the top 20 pharma and biotech companies in the world. Sapio's technology is backed by extensive experience in the design and technology of user-friendly applications.
Sapio's founders have spent extensive time researching and developing a data-driven approach to designing a general purpose data management and workflow tracking system that could be configured by any of our customers, regardless of their programming experience.
What is Sapio Histopathology LIMS?
The Sapio Histology integration is targeted at labs working with large numbers of samples for assessing the effects of drugs on subjects. Sapio Histopathology LIMS include immune-toxicology evaluations and other features. To learn more about Sapio Histopathology LIMS, click here.
What is Sapio NGS (Next Generation Sequencing) LIMS?
Thanks to Sapio's extensive experience in NGS pipelines, our Sapio NGS LIMS product can be up and running in just a matter of hours. Our NGS LIMS is fully web based, collects QC data and integrates it with all leading QC genomics instruments, can support any additional lab processes outside of NGS, and comes with pre-built, CLIA standard NGS workflows. To learn more about Sapio's NGS LIMS, click here.
What is Sapio Bioanalytical LIMS?
Sapio Bioanalytical LIMS tracks the subjects, treatment groups, and chain of custody of a sample throughout the lifecycle of a study. Sapio Bioanalytical LIMS includes predefined templates and other features, such as instrument and materials management, method development, method validation and execution, data analysis and review, and KPIs. To learn more about Sapio Bioanalytical LIMS, click here.
What is Sapio Stability LIMS?
Sapio Stability LIMS helps users define and track the details of their stability studies from end to end (from batch details to results) in a variety of industries. Sapio Stability LIMS is straightforward and its scheduling system makes it easy to visualize upcoming events and execute processes straight from the calendar view. The Stability LIMS supports electronic lab notebook functionality as well as R&D and clinical workflows.
What if my team needs help implementing Sapio LIMS software?
We can help. Sapio Sciences LIMS Consulting personnel—which consists of experienced software engineers and project managers—can implement and manage your LIMS software to your exact specifications and requirements. Our package includes consulting, development, and implementation services, and you can rest assured that our knowledgeable staff has a thorough understanding of your industry and your lab's specific needs.
Our other LIMS consulting services include:
Business analysis
Dashboard Development
Sapio LIMS Workflow Implementation Services
Data Management Assessment and Implementation
Sapio Integration with internal or external systems
And more
What kind of resources and technical support is available to Sapio customers?
Sapio Sciences customers gain free access to our support forum and helpful resource library whenever they create a free account. The resource library provides useful information about LIMS and ELN software and it's where customers can access whitepapers and additional support.
Are you a Sapio Sciences customer and have a question? You can reach our sales and customer support team via email or call us at (410) 800-4620.
Can I see a demonstration of Sapio LIMS software?
Yes! Anyone who is interested in seeing how Sapio Sciences's LIMS software works can feel free to schedule a live demonstration with one of our staff. Click here to book a demo.
Final thoughts on LIMS Systems
While it is critical for a modern R&D Labs to support its operations with a modern Laboratory Information Management System (LIMS), it is even more important for clinical labs to have a LIMS software solution to ensure proper delivery of patient results.
Find out more about Sapio's Informatics Platform Lab Management Software.