If you're in need of a LIMS system, you're not alone. Many pharma laboratories are moving toward modern pharmaceutical LIMS company's solutions as part of digitizing their lab management.
Considerations for Pharmaceutical LIMS Software
With a new search for a LIMS system, you have the great opportunity to think strategically about your lab informatics direction and start with modern lab management system to address these issues, but where to begin? There are many options on the LIMS market as a simple google search on
LIMS system
or
LIMS software
will show, but as you will see the ideal solution will have much broader capabilities and the solutions in that category are far fewer.
Pharma's typically have numerous LIMS software solutions as well as
Electronic Lab Notebook
systems being used throughout their organizations. While you cannot expect to transition your entire pharmaceutical organization to a single solution, the key is to position yourself by avoiding buying point solutions or single lab solutions that will just continue the silos of information problem that already exists and is greatly reducing operational efficiency across the pharma organization. For example, even if your own lab has specific needs, like an
NGS LIMS system
or a
Clinical Laboratory LIMS
, you should buy a solution that will meet any labs needs so that other labs in your organization could adopt it over time.
What is LIMS Software in Pharma?
The R&D function is the lifeblood of a pharma company, and one of the primary supporting functions of the Research and Development organization is the lab processing and related data. This is primarily related to assays run on Samples and their associated data, perhaps even including applied analytics to assay data. The lab function exists to support these scientific research efforts and therefore it is clearly critical that the lab uses software that enables all the following:
Materials inventory tracking of all items supporting the sciences such as biological samples, compounds, larger molecules, etc.
Process tracking of lab processes so rigorous protocols are followed to ensure quality results
Request management so scientists can easily submit processing requests and see progress and results as soon as they are available
Integrated dashboards and analytics
Permissions controls for data, workflow template and product functions controls
There are many more features that could be listed here. Of course while it is very important to have these functions, the
best lims pharma
also make it very easy to implement and use these functions according to your specific needs.
Laboratory Management Features for Pharmaceutical LIMS
A department manager at a pharmaceutical company when starting to explore a LIMS solution for their laboratories could start focusing on solutions in that space and look for the requirements listed in the last section. Buying a modern LIMS for sample management, inventory management and other functions would surely be better than using excel or paper. This would make finding things easier and improve lab quality of operations. But this will still fall short of where you need to be to digitally transform your laboratory and streamline, if not accelerate, your R&D organizations discovery efforts.
To do this the company needs to take a strategic view of their life sciences business information technology infrastructure. This means that decisions cannot be made exclusively by a lab manager, but there should be an approach that tries to address not only the lab management needs, but also the scientist's electronic lab notebook requirements. Why? Because there are many common data tracking needs that are shared between the ELN and the LIMS system that having them in a unified repository is the logical way to go as it streamlines your operations and eliminates the need for integrations with all the cost and problems they entail.
The decisions to buy a single solution for LIMS and ELN really could not have been made before because such a solution did not exist until Sapio introduced it with its informatics platform in 2020.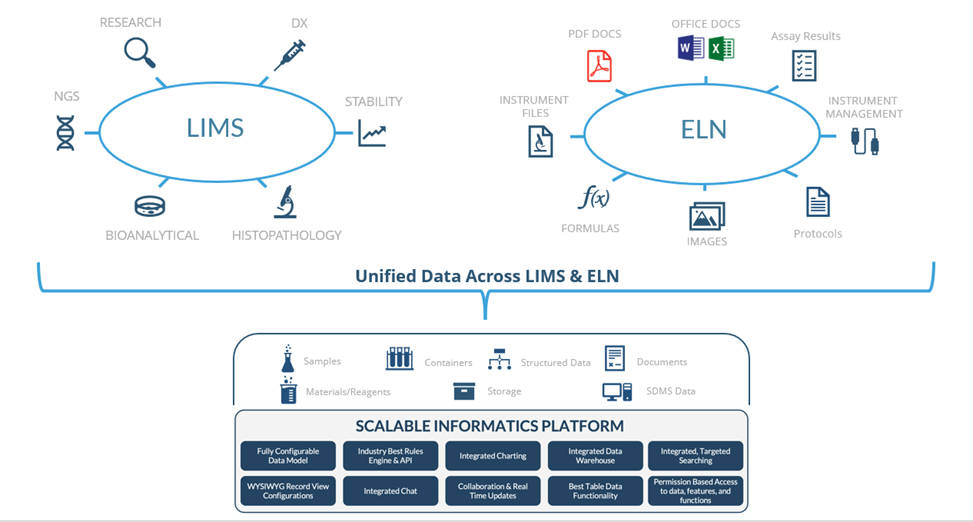 A key decision point is also not just that there is a unified pharma LIMS software and Electronic Lab Notebook solution, but that they are built on a world class, low-code, no-code platform. Platforms like this are very hard to make often taking a decade or more to be fully fleshed out, but once created they provide immense benefits in terms of agility to adapt, built-in features, extendibility and more.
Final thoughts on Pharmaceutical LIMS Company
So, the LIMS and ELN will benefit immensely from the platform on which they reside in terms of implementation speed and agility to adapt to change over time as well as searching and visualizing data, but if the platform also includes analytics it can also provide valuable insights to any data collected in the platform, such as curve fits and machine learning. To sum up, a pharmaceutical company should look to evaluate and purchase not only a combined LIMS system, and Electronic Lab Notebook but also ensure they are built on a science-aware, informatics, low-code, no-code platform.