A SaaS LIMS Software Solution for Managing Requests, Samples, Processes and Instrument Data
Whether your lab is doing PCR, genomics, proteomics, protein engineering, medicinal chemistry, sequencing or other lab experiments/tests, it is operating as an advanced workflow processing center. These workflows start when the sample arrives at your lab and continue as the sample is processed in one or more lab experiments. Typically, though, your work does not end when the sample is accessioned and put in a freezer. In fact, that is just the beginning of an overarching process involving bench protocol tracking, material tracking, instrument integrations, data analysis and results delivery. To realize the digital lab, your SaaS LIMS Software Solution should be able to be easily configured to meet all these requirements at scale while retaining ease of use and agility to change.
Sapio LIMS System - A Complete SaaS Lab Information Management System Solution
Many laboratories today use spreadsheets or outdated software for lab management to perform tracking of samples through these processes. These methods usually are lacking proper traceability, searching or other key efficiency features like instrument automation. This decreases lab efficiency reducing throughput, while also not delivering on proper data delivery and reporting.
The modern digital labs view process as an asset. Under this scenario the lab should be able to quickly configure complex process workflows, chain the workflows together into overarching processes and be able to then track work progress, show work to be done, etc. Critical within the lab workflow is automation both from a physical processing standpoint, such as acquiring automated liquid handler robots, to the laboratory management systems integrating with robotics to send instructions as well as read output whether it's sample quantitative / qualitative assessments or assay result data.
Looking to the future, scale is going to be critical. One thing that is certain is that data volumes will increase over time and not decrease. The SaaS lab information management system should be able to scale to huge data volumes with many data points and be able to load it all in a timely fashion without bogging down the system performance over time.
With Sapio
web based LIMS software
there is no limit on what type of processes can be tracked due to the versatility of Sapio to adapt to any lab process quickly via configuration. Further, in addition to our many out of the box integrations, with configurable instrument integrations Sapio
LIMS system
can load most instrument files with no coding.
With Sapio you can easily configure processes to easily collect key information. Sapio then enables industry-best, cross system, targeted searching to enable easy access to important information. Also unique to Sapio's LIMS in SaaS is that it includes built in charting so you can take any search result and visualize it immediately inside our lab management systems. Sapio also tracks all turnaround time metrics so you can easily search and visualize how your lab is performing over time.
Collaborative LIMS in SaaS Software
In addition to its configurable workflow engine, Sapio LIMS software is the only solution that offers real time collaboration. When working through a lab workflow any number of lab technicians can be working concurrently on the same workflow. Each one can be editing and recording important information without other lab technicians having to exit the workflow. Also unique to Sapio LIMS System is that it has real time data updates, so as others make updates to the workflow or data you are viewing, the system will reflect those changes immediately without you having to refresh the view. Sapio is therefore the only system on the market that ensures you are always seeing current data whether inside or outside a workflow process.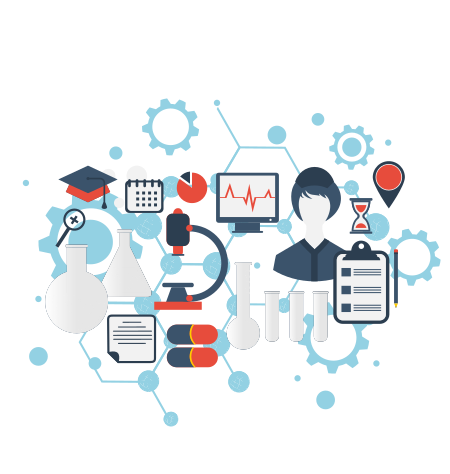 SaaS Cloud-Based LIMS: The Digital Lab Realized
Sapio LIMS Software is built on the industry best informatics platform with integrated LIMS, Electronic Lab Notebook and Scientific Data Management. All data is cross system, targeted searchable and can be visualized and even analyzed with our integrated data warehouse. No more data silos, no more expensive and often failed integration efforts.
Sapio also has numerous out of the box, pre-built solution for key application areas like:
NGS
PCR
Biorepository and Chemrepository including Virtual Entity Registration
Stability and Formulations
Medicinal Chemistry
Protein Engineering
Histopathology
Bioanalysis (Method Development, Method Validation, Method Execution, Study Design, Etc.)
Sapio Seamless: SaaS LIMS for more than Research
Sapio LIMS System is also applicable to
Clinical Lab Management
as it is used in the largest clinical labs in the world. Sapio's
Clinical LIMS software
enables lab to be compliant and track in detail each process step from sample accessioning to resulting. Sapio also uniquely offers CRM and Clinical Order Management modules so your entire operation can be fully integrated from provider engagement, to quota/forecast tracking, to test ordering, to order transcription onto lab process tracking and patient report generation.