Introduction to Clinical Laboratory Software
The clinical lab services market is experiencing rapid growth largely due to advances in genetics/genomics/proteomics technologies over the last decade that have enabled significant discoveries to be made and commercialized into clinical tests. Commercial companies are now emerging offering one or more of these new tests, often in combination with proprietary algorithms to provide useful information for patients.
In order to commercialize these tests, a company will need to track its clinical laboratory workflows from clinical test ordering to order processing to sample processing and results delivery. For US based labs to conform with regulations, the entire process from sample receipt to processing needs to be compliant with CLIA and sometimes CAP regulations as well as FDA Part 11 regulations.
Test Lab Management Software
What Are the Requirements of a Clinical Lab?
Clinical labs have a diverse set of clinical lab management needs that span well beyond what is traditionally thought of as lab management. All or some of the following are often required of a clinical laboratory software solution:
A CRM for tracking the sales processing from engagement with providers to forecasting and revenue tracking
An ordering system for physicians to enter test requests, or a method to interface with existing physician systems to receive orders
A Clinical Lab Order Management System
Sample Collection Kit Management
Sample Management/Accessioning
Lab Workflow Tracking
Instrument Integrations for Lab Automation
Assay Data Management
Patient Report Generation and Delivery
This extent of this list of requirements for
clinical lab management software
is daunting for a new clinical lab to consider as a thorough implementation of these features would typically require four or more software solutions and years of work. New labs also may need to get CLIA certification and require FDA Part 11 compliance.
Clinical Lab Management Software
Sapio Clinical LIMS - From Relationship Management Tracking to Order Processing to Lab Processing to Results Delivery
Sapio Sciences has extensive expertise in implementing compliant systems at leading clinical companies. Sapio Clinical LIMS is medical
lab management software
designed to manage all the items listed above within a single solution, and it does this in contracted timeframes without sacrificing features or functions. Sapio delivers your complete operational solution for your business from sales engagement tracking to results delivery. Sapio is the only vendor offering a complete end to end solution for clinical labs. This means your lab can be up and running and processing orders quickly in a compliant setting.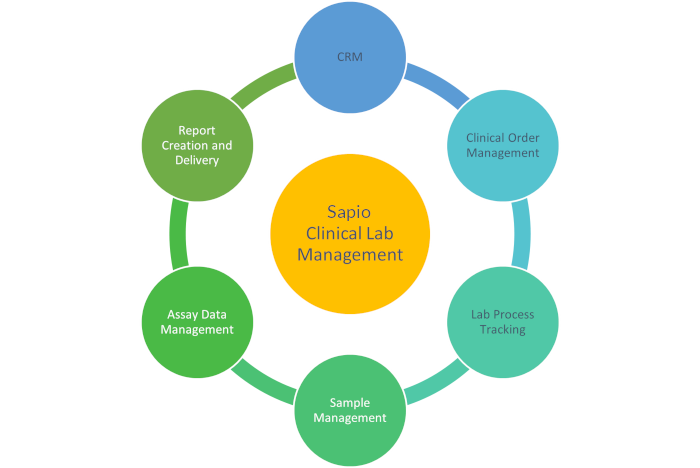 Sapio achieves contracted implementation timeframes with complete tracking from request to results. Sapio can do this because its Sapio
web based LIMS software
foundational technology platform enables detailed processes to be configured rapidly while adhering to your specific requirements. Sapio is also able to make the process 100% paperless from test request through sample processing and results generation, which streamlines the workflow from beginning to end while accelerating results delivery. Sapio can also host as its solution is available as a
SaaS LIMS software
solution for
clinical lab management
.
Complete Clinical Laboratory Workflow Handling
A Clinical Lab CRM and Clinical Order Management Solution
As part of tracking the completed
clinical laboratory workflow
, Sapio
LIMS System
tracks even complicated order management processes including shipment tracking, accessioning, order transcription, results management and reporting. This is all done via configuration to automate order validation processes. With its CRM integration, Sapios
Clinical LIMS software
delivers its functionality via an add-on module for clinical order processing built on top of a leading CRM,
Veloxity CRM
. The CRM serves the dual purposes of being the primary sales tool for tracking territories, sales teams, providers, opportunities and recurring revenue.
The CRM also has complete order processing which ties into sales revenue tracking. As orders come in, they are attributed to the proper sales representative and related sales territory and assessed against quotas and forecasts. While Sapio's Clinical Order Management and Clinical Lab CRM are LIMS software agnostic, they work best within the Sapio ecosystem.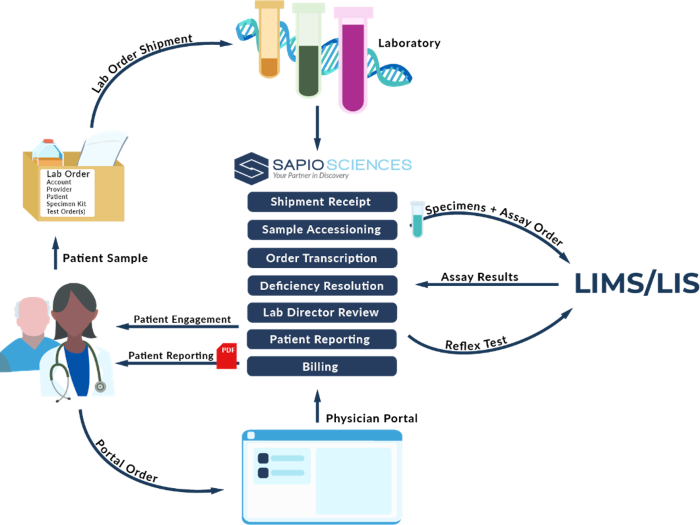 Sapio Sciences — Your Experienced Partner in Discovery for Clinical Sample Processing
Sapio Sciences has industry best experience in clinical implementations via our marquee list of clients who have commercialized clinical tests all being tracked with our clinical lab management software. Sapio understands CLIA\CAP\Part 11 and our Sapio technology supports all the key regulatory requirements. We have both strong partnerships and integration experience with companies in the clinical space including billing providers. The combination of Sapio LIMS/ELN compliance, end to end operational support capabilities, and our broad experience in the clinical space makes Sapio the ideal solution for your clinical lab services company.