How to Set Up a Successful LIMS Implementation
Setting up your new laboratory information management system can feel like a daunting task, even if you're working with a LIMS that comes with out-of-the-box features, such as Sapio's.
Between managing your lab staff and ensuring that your projects are running smoothly at every stage, you want to make sure your LIMS is set up correctly, but also efficiently, in order to maximize its features.
In this post, we're going to show you the LIMS implementation process so your lab can start using this powerful system as soon as possible.
How LIMS Software Improves Your Lab Efforts
A LIMS (laboratory information management system), also known as LIS (Laboratory Information System) is a digital program that helps lab managers keep track of the flow of samples and related data for a more streamlined lab operation. By introducing LIMS solutions in laboratory activities, researchers can run better experiments, standardize workflows and automate lab processes with minimal effort.
Sapio's low-code, no-code informatics platform is at the forefront of digital labs and can accelerate your R&D operations for improved productivity.
Learn more about the Sapio informatics platform
The core functionalities of a lab information management system include:
Sample management
Workflow management
Inventory management
Data access, report generation, and so on
Labs that leverage information management software as an indispensable part of their daily operations are:
Research labs at non-profits
Clinical labs
Natural sciences labs
Environment protection labs
Biotechnology and pharmaceutical labs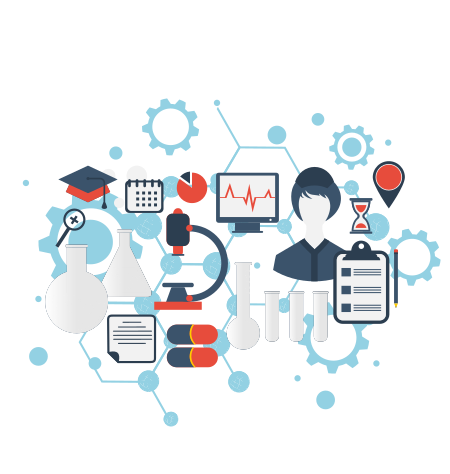 How to Ensure a Successful LIMS Implementation
While over 75% of the total operating costs (OPEX) within a laboratory come from the workforce required to perform daily repetitive tasks, introducing task automation can help significantly cut this unnecessary overhead.
A quality LIMS solution aims to make lab processes more accurate and effective by speeding up labor intensive tasks via integration with automation robotics. But to ensure your lab processes are executed seamlessly and efficiently, getting your LIMS system implemented right is a must.
LIMS software implementation spans from requirements analysis and project planning all the way through to staff training and going live. Each step in this process is executed by a qualified project team comprising subject matter experts, business analysts, solution architects, etc.
That said, one of the leading reasons behind many LIMS implementation failures is deploying software without ensuring the complete hands-on involvement among stakeholders, end-users, etc. throughout the implementation process.
So how can you ensure a successful system implementation to bolster your lab productivity while limiting costs?
Let's take a look at the LIMS implementation process:
Step 1: High-Level Requirement Definition
The first step to importing and deploying a high-end LIMS that can scale your lab operations is to define your requirements. It's vital to pinpoint the existing and prospective laboratory requirements to facilitate all the stages ahead in the implementation process—from deciding the software provider all the way through to the release and effective system utilization.
Some of the leading lab requirements met by a quality LIMS like the Sapio informatics platform are:
Confirming regulatory compliance while implementing a clinical LIMS
Request Management
Data protection through comprehensive audit trails and robust access control
Configurable lab process and workflow definition
No-code rules-based business logic
Instrument integrations
Enhanced reporting and data visualization
Comprehensive KPI tracking
Check out our guide to selecting the best LIMS solution for your lab
Migrating to a new information management solution may seem less time-consuming than implementing one from scratch. But before you start off with the migration process, evaluate the pitfalls of your current software and how the new platform can address them for better lab performance and insights.
A standard LIMS typically has an intuitive interface and includes instrument maintenance scheduling and tracking support, materials management, storage management, higher sample throughput support, reporting automation, etc.
Step 2: LIMS Implementation Project Plan
There is no alternative to planning a project early, especially when it comes to deploying a scientific informatics platform.
Delving right into the implementation stage without fully devising a thorough project plan may not deliver the expected lab efficacy and productivity within the set budget and timeframe.
The system deployment project plan should clearly define the approximate time, key performance metrics, LIMS vendor options, etc.
Let's dive deeper into some key aspects of a comprehensive LIMS project plan:
Don't finalize a vendor before evaluating the discrepancies between the platform and your lab requirements. Through careful seller evaluation, you can invest in the most profitable compromise between the functionalities offered by a provider and a fully customizable system.
Make sure to invest in a no-code/low-code platform solution as it will ensure more rapid deployment and flexibility to adapt over time as your requirements evolve.
For an efficient system implementation, it's always best to determine the MVP (minimum viable product)—the core LIMS functionalities unique to your lab specifications that can help ensure maximum lab efficacy. Thus, you can have the minimum functionalities in action to ensure instant productivity and eventually get acquainted with the advanced capabilities as your staff gain more experience.
Organizations having a thought-out LIMS implementation project plan can significantly reduce the deployment time and related expenses.
Step 3: Don't Save Data Migration for Last
Considering the existing system's data migration in the early stages of the project planning process is key to a successful LIMS implementation. However, a lab or project manager is more likely to focus on system customization and validation and put off working on data migration until late in the deployment process. It is not a requirement to migrate data, but even a minimal migration can provide value, as the new system will start off already populated with key lab information, such as material and sample inventory information.
Mission-critical experiment data is an asset, and proper consideration should be given to migrating it from the legacy system to the newly implemented one.
Step 4: Configuration
No two lab processes are identical, and neither are their requirements. Based on your lab specifications and the technical procedures and workflows used in the operations, your vendor may need to document the required software configurations and ensure the new system complies with your defined conditions.
But remember, based on the level of configuration you need or how much master data is to be fed into the new system, it may take anywhere between six months to one-and-a-half years to complete a LIMS deployment process.
No matter what type of processes you need to track, the Sapio LIMS system is highly versatile and can adapt to any lab process in a fraction of a time via its high-end workflow configuration and comprehensive toolset—no need for IT assistance or coding experience.
Need an extensible and configurable system without breaking the bank?
Check out our solutions.
In specific cases, you can cash in on a preconfigured LIMS that provides built-in modules for workflows, thus saving even more time and expense. However, regarding system configuration, even with a highly configurable system, you need to be aware of scope creep and changing requirements that can greatly lengthen implementation times and costs and leads to team member dissatisfaction.
Step 5: Run Test Cases
Running test cases allows users to identify any issues that crop up during the final stages and thus helps ensure the quality of the deliverable solution. The software testing process is not just about complying with data regulations; instead, it's to ascertain that all software functionalities and their combinations successfully meet the defined lab specifications and requirements.
The more configurations you ask for, the more time you may need to invest in testing.
Step 6: User Acceptance Testing
Now that the new system is ready to integrate into your laboratory functions, it's time to train the end users to help them get the most out of your product. Your lab should have the User Acceptance Testing process already implemented. However, you can always ask LIMS implementation services to offer training documentation and hands-on tutorials.
Sapio Sciences helps its clients understand its solution in no time by providing free access to its ever-growing video resource library, whitepapers, and support forums.
Are you a Sapio Sciences customer and have a question?
Contact us.
Step 7: Go Live
Now, it's time to abandon your legacy system and keep transforming your lab procedures by leveraging your new integrated LIS system.
Advantages of a Successful LIMS Solution
Today's advanced labs produce and store a massive trove of data. This information is often fathered from a host of sources that are sometimes not integrated. Such a disparate process of data collection creates data silos affecting an organization's ability to work with their data holistically to accelerate their discovery processes.
Again, with more R&D laboratories turning to advanced and high throughput technologies, the amount and quality of data flowing across organizations are also skyrocketing, making it challenging for lab managers to ensure efficient data management.
As we have already said, one of the most viable approaches to handling this massive volume of on-site data is introducing a LIMS system to lab processes. This highlights another key point and that is to make sure that your chosen lab system probably supports the extreme scale required to meet not only current but also your future needs. A scalable, high-end informatics platform can bring all lab operations into a single glass pane through integration, while also streamlining data management, data searching, visualizations and analytics to accelerate your research and discovery operations.
Moreover, by allowing researchers to mesh multiple subprocesses, LIMS software reduces human errors and facilitates data sharing and real-time collaboration among stakeholders.
Some other benefits a LIMS offers to the laboratories include:
From request, to process management tracking, storage and final sample disposal, an information management system enables efficient tracking throughout the sample lifecycle
With a quality informatics system like Sapio LIMS in place, laboratory data is available at the click of a button—no more digging through spreadsheets and files
Quality Control (QA) is automated
Years of lab data can be stored without the requirement for traditional archiving
Compliance with data protection regulations
Reduced data transfer errors through automations. Sapio LIMS enables configurable instrument integrations to load most instrument files seamlessly—with zero coding and at scale
Wrapping Up LIMS Implementation
Successfully implementing a new LIMS is a challenging task that can come with a high price tag and requires expertise to maximize the use of lab resources.
As an industry-leading LIMS service provider, Sapio Sciences—a team of expert project managers and engineers—offers a complete LIMS deployment service tailored to your lab culture.
Are you all set to transform your lab by implementing a high-end LIMS?
Try Our FREE Bronze Edition.