What is a Digital Lab?
The digital lab is a concept where organizations take a data driven approach to their R&D and Clinical initiatives which requires the removal of data silos while requiring:
Data and Process Consistency
Agility to adapt to new Processes
Data Mining across the Enterprise
Data Visualization & Advanced Analytics
Digital Lab Mandates
Innovate rapidly. Agility.
Improve Return on investments.
Convert Data to Insights.
Implement adaptable processes.
Improve regulatory compliance.
Foster Collaboration broadly.
Digital Lab Challenges
More Data. Faster.
Innovation acceleration.
Demonstrated Reproducibility.
Data Silos. Legacy Systems.
Scientists Data Deluge.
Digital Lab Enables
Robotics. Automation & Repeatability.
Advanced Analytics
Integrated LIMS & ELN Platforms.
Advancement in Lab Instrumentation.
AI and Neural Networks.
Adopting Digital Lab Principles is Not Optional
Your data and processes are your most prized assets, but without the realization of the digital lab these valuable assets are not being used to facilitate and accelerate discovery. Organizations who do not adopt the Digital Lab will be out maneuvered by the competition and will be unable to uncover important discoveries lying hidden in the data they have already generated.
The Exemplar Seamless Platform: The Digital Lab Realized
Sapio's Seamless Informatics platform was built to enable the transformation to the digital lab. The seamless platform includes a world class LIMS System, Electronic Lab Notebook (ELN) and Scientific Data Management System (SDMS). All of these features can be used together or you can elect to use only the LIMS software component, or just the Digital Lab Notebook, for example.
With Exemplar's Laboratory Management System, you can easily configure new workflows via drag and drop and can also graphically design and track complex workflow to workflow processes. Scientists can, with minimal training, use Exemplar's Science Aware Digital Lab Notebook to track their experiments and collaborate with their colleagues. Data analysts can mine terabytes of collected data by performing SQL-free queries, visualize/export the results and analyze them in real time with interactive, integrated analytics. While any of these components can be used standalone, the full power of the digital lab comes with utilizing all three systems in parallel. This conveys immense benefits in having a single repository with unified data and process, which coupled with Exemplar's powerful targeted searching tools means your R&D efforts will be accelerated beyond point solutions lacking either integration, search or bio and chem aware Electronic Lab Notebook.
With the Seamless Platform you will:
Increase your labs throughput, instrument utilization and maintenance
Accelerate discovery through our Electronic Lab Notebooks bio and chem aware visualizations for low and high throughput experimentation
Harmonize your processes across your organization
Reduce experimental redundancy (i.e. wasted effort and resources) with proper search of your existing data and process assets
Augment your lab scientists in executing on their work with automated workflows and work queues
Test hypothesis faster via integrated data visualizations and analytic driven insights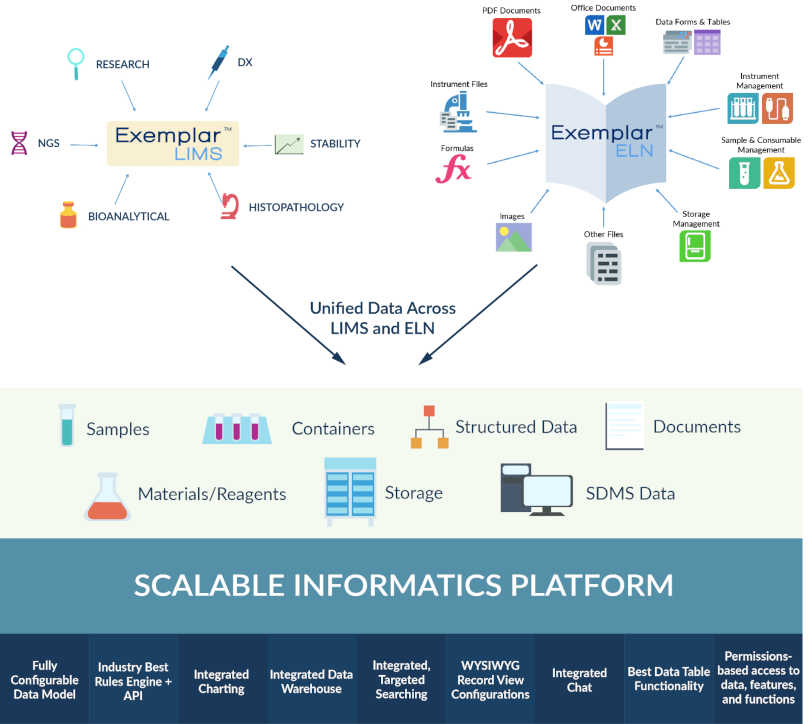 Schedule a Demonstration of Exemplar
We are happy to setup a time to demonstrate Exemplar.
We respect your privacy and do not tolerate spam and will never sell, rent, lease or give away your information (name, address, email, etc.) to any third party. Nor will we send you unsolicited email.
Baylor College of Medicine Case Study

Webinar: ELN, LIMS or SDMS? Disappearing Boundaries in Digital Labs

How To Buy a LIMS - The 5 Question RFP

Exemplar LIMS for NGS Labs
Thank you for your interest in our resources!
To download this information, you'll need to setup a FREE account. Please use the provided form to to register.
Already have an account? Login